Shin-Etsu AQOAT®
Shin-Etsu AQOAT®
Shin-Etsu AQOAT®
(Hypromellose Acetate Succinate)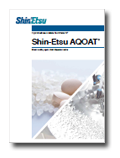 PDF version (1,168KB)
Shin-Etsu AQOAT® (hypromellose acetate succinate) is our second enteric coating material and it was developed for aqueous coating. Shin-Etsu AQOAT® was approved as a pharmaceutical excipient in Japan in 1987, and then in the United States and several European countries in 2001. In an aqueous system, a suspension containing Shin-Etsu AQOAT® (fine powder), triethyl citrate as a plasticizer, talc as an anti-tacking agent, and sodium lauryl sulfate as a wetting agent is typically used.
Shin-Etsu AQOAT® also shows excellent performance when it is used as a carrier for solid dispersions in order to enhance solubility of poorly soluble drugs.
Shin-Etsu AQOAT®
Enteric Coating Agent (Aqueous System & Solvent System)
(Hypromellose Acetate Succinate; NF)
Grade
pH Solubility
Application Form in Coating Operation
AS
LF*
≧5.5
Aqueous Dispersion
MF*
≧6.0
HF*
≧6.8
LG
≧5.5
Organic Solvent
MG
≧6.0
HG
≧6.8
Note: * F is fine powder grade (av. particle size about 5μm).